Tournament Results
Inter County U18's Championships
Crawley YBC Represnting Sussex
A Resounding 3rd Place For The Girls Team!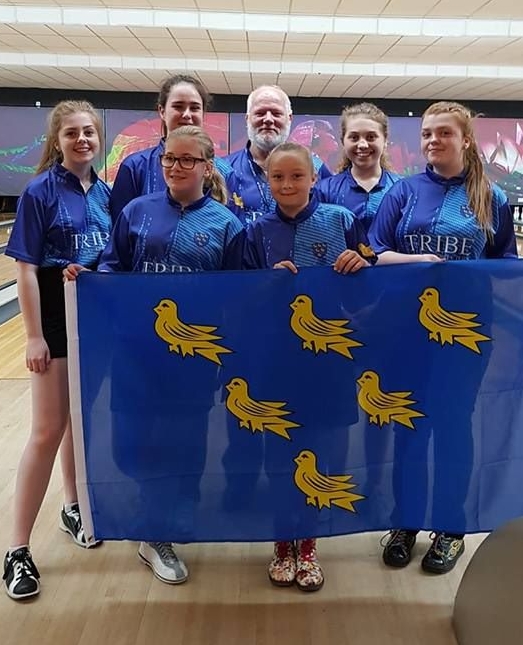 Following on from the NAYBC Nationals is another eye catching event, the Inter County Championships are highly anticipated with Counties kicking of qualifying for teams well in advanced all leading up to the Finals.
This year we had representing for the Girls U18's; Georgie & Charlotte & for the Boys U18's we had; Oliver & Luke. The event was hosted by Airport Bowl in Heathrow, the premier host bowl for these occasions, over the course of two days our bowlers would compete against the best from across the country representing their respected County.
Reports gathered from those at the event that it was a difficult lane pattern with medium pace scoring expected, with only 1 yes 1 800+ game bowled in the Boys division, with a couple bowled in the Girls. The two coaches, Mick & Sean Hussey, father & son pairing did a great job coaching and managing their teams through a tough Saturday squad. At the end of play on Saturday the Sussex Girls were placed neatly in 4th with the Boys in 6th, no in County competition at all... He says. On day two for the Girls they started slow out of the blocks in game 6 after the previous 5 on Saturday, however, a great turn of form saw them qualify 4th! Into the Matchplay rounds they went. As for the Boys, the top 8 qualify for Matchplay, lead by some stern bowling from Kieran Akenhurst & our own Oliver Stroud both putting in 190+ games saw Sussex qualify in 6th!
Unfortunately that's as far as the Boys could stretch too in the Matchplay loosing out too Warickshire after blowing a 100pin lead, despite this they set out to achieve what their goal was which was too qualify so regardless of the final result a good day overall. As for the Girls they continued to shine and made it all the way into the medal places! With solid bowling from all including of course our rowdy two Charlotte & Georgie supporting their team Sussex took home the 3rd place medal! What a fantastic weekend for Sussex.
A special mention too as well ges too the U15's Boys Team a couple of weeks prior again at Airport Bowl, who went deep into the tournament and came out an resounding 1st place taking the title! Oliver himself was bowling too, so clearly any team he bowls in thrives! Now if the U25's could only get their acts together "cough cough".